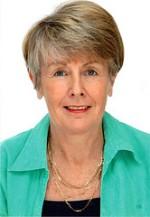 Barbara Erasmus is a freelance journalist who lives in Cape Town, enjoying a splendid view of the mountain and close proximity to Cine Nouveau. She shares the house with the Silver Fox, her husband of 42 years and Molly and Lucy, the latest in a long line of Erasmus dogs. She has a daughter in Vancouver, mother of the Starfish, twins of note; her travelling son has made a recent return to Cape Town.
Having grown up in idyllic Zimbabwe, she spent twenty five nomadic years following her husband's career around South Africa, which gave her the opportunity to travel all over the world, sparking her career as a travel writer; she is a listed writer on the UK web-site www.travelintelligence.com  She retired from teaching in 1998 to freelance full time and writes on a variety of subjects for local newspapers and magazines, winning the  DSAG GlaxoSmithKline Media Excellence Award and the Women&Home annual short story competition.

Her first novel, Kaleidoscope (Penguin, 2004) was nominated for the Commonwealth Best First Novel Award ; both Kaleidoscope and even with insects (Penguin, 2005) were included in the Exclusive Books Homebru promotion.  Her crime novel, Chameleon, was published in instalments on the Crime Beat blog www.crimebeat.bookslive.co.za  which she edited for three years. Her fourth novel, Below Luck Level was published by Penguin in 2012. She is currently brooding on a new novel, set on a train in India.